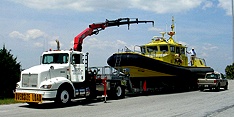 The Truck and Crane Division Hauled out the 50ft Glynn and prepares her for the road.
The Truck and Crane Division with it hydraulic trailer and crane is capable in moving large vessels, lifting engines, gear and buoys onto or off the research vessel.

The office and large garage work area can be used for storing and working on your gear. Our 24hour dispatch will handle the logistics of projects day and night 7 days a week. Please contact Brunswick Navigation any time about your projects.